HP Latex 365 64 inch Printer
HP Latex 365 64" Printer features a number of significant innovations that take you beyond the limits of traditional eco-solvent printing, creating new opportunities to expand your business whilst being able to achieve a Green Workflow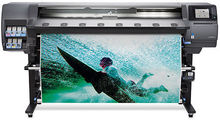 HP Latex 365 64" Printer features a number of significant innovations that take you beyond the limits of traditional eco-solvent printing, creating new opportunities to expand your business whilst being able to achieve a Green Workflow
The Greenest Wide-Format Solution for outdoor & indoor applications. Carrying a broad set of credentials & certifications addressing a host of environmental concerns; inc ink chemistry & indoor air quality—for both print production and display—to lifecycle and recycling considerations.

HP's third generation in latex printing, the Latex 365 delivers a lower curing temperature, reducing running costs and allowing you to print on even more medias & substrates, including thin polyethene and self adhesive vinyls normally seen used in solvent or Eco-Solvent technologies, along with the first time Porous and High Saturation textiles (Latex 365 only). With an unrivaled output quality and speed, the 64 inch print width HP Latex 365 is a diverse workhorse.

Water-based HP Latex Inks combine the best characteristics of solvent inks and water-based inks, you can obtain outdoor durability & versatility across all common media types used in sign & display applications, together with high-quality, odorless prints & low maintenance.

Beat client expectations for Quality & Durability with the HP Latex 360

Consider unlaminated use with scratch resistance comparable to hard-solvent inks on SAV and PVC banner
Deliver with confidence—outdoor prints last up to 5 years laminated or 3 years unlaminated
Produce sharp, consistent, repeatable image quality with high efficiency curing 6 colours and 1200 dpi
Print on traditional signage substrates and beyond— up to 64 inches print textiles with the 360 Latex ink collector
Handle highly demanding turnaround times

High quality at high speeds—31 m2/hr high-speed outdoor quality
HP OMAS and HP Latex Optimizer
Reach production speeds and avoid wait time—prints come out completely dry and ready to finish and deliver
Save time— HP Custom Substrate Profiling and i1 embeddedspectrophotometer, makes ICC profiling easy
Increase production time and reduce time monitoring the printer—
automatic, reliable, low-maintenance printing
High-efficiency curing High-speed, consistent and repeatable image quality with low power consumption:
HP Latex 365 Printer is the fastest in the range
17 m2/hr (183 ft2/hr) indoor quality
31 m2/hr (334 ft2/hr) high-speed outdoor quality
91 m2/hr (980 ft2/hr) maximum print speed

HP 831 Latex Inks take advantage of the versatile, durable performance
of HP Latex Inks:

Scratch resistance comparable to hard-solvent inks on SAV and PVC banner—
you can consider unlaminated use for short-term signage
Prints are completely cured and dry inside the printer and ready for immediate finishing & delivery
HP Latex Optimizer Achieve high image quality at high productivity
Interacts with HP Latex Inks to rapidly immobilize pigments on the surface of the print
Related Pages