Neolt Shield 165 Pneumatic Laminator
Neolt Shield 165 Laminator is designed andámanufactured to adapt to the widest range of applications, from car-wrapping to the interiorádecoration and paper transformation industry.á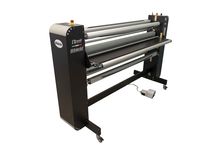 Neolt Shield 165 Laminator is designed and manufactured to adapt to the widest range of applications, from car-wrapping to the interior decoration and paper transformation industry.
With its pneumatic technology, the Shield series reduces the setup time of the machine even for unskilled operator & reduces production errors.
Thanks to the use of it's pneumatic technology the Shield range reduces the machine setup & preparation time and compared to electric pressure laminators the possibility of production error is removed. The availability of a version with hot rollers increases the scope of applications.
The Eco-sustainable air pressure system has much lower energy consumption compared to electric motor laminators & the Shields air pressure system with independent pistons automatically adjusts to different media thicknesses and manages the flatness defects of substrates with rollers being adapted to the surface in real time.
Plug & Play | Neolt shield laminators are equipped with an internal compressor - It's enough to plug in and let the machine reach its temperature and start working.
Eco-friendly | It's air pressure system results in lower power consumption than electric motor laminators
Self-adaptive | An inbuilt air pressure system with independent pistons adapts automatically to different media thickness and to different materials - The rollers simply adapt to the media surface in real time
Flexible | Pre-define the pressure to be applied to each media. Once you have loaded the material it is always possible to adjust the pressure.
OPTIONS / ACCESSORIES | Options include hot rollers at 50°C, A manual horizontal cutting unit and a variable number of exit vertical cutting units for easy user adjustment.
More Images
Related Pages