Canon imagePROGRAF PRO-6100S 60" Printer
The new imagePROGRAF PRO-6100S printer replaces the popular PRO-6000S and is packed with improvements!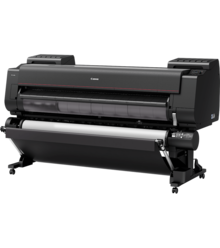 The new imagePROGRAF PRO-6100S printer replaces the popular PRO-6000S and is packed with improvements!
It's faster, more secure, boasts a larger 4.3" touch screen display & even better media handling.
Lucia Pro Pigment Ink
LUCIA PRO pigment ink is newly developed for the imagePROGRAF PRO series to deliver printing with a wide colour gamut, excellent colour expression, superior dark area reproduction, low graininess, and good gloss characteristics.
Advanced Precision Print Head
The new imagePROGRAF PRO series 8-colour, fully integrated print head enables even faster printing with exceptional print quality. At a compact 1.28" wide, enabling efficient, high-precision ink ejection without discrepancies.
New - Rigid platform for best quality
ImagePROGRAF PRO series printers feature a brand new mechanical platform. The highly innovative chassis structure provides an exceptionally rigid frame that can maintain a precise distance between the print head and media – virtually eliminating oscillation for high-precision ink placement with little inter-colour discrepancy.
Dual roll unit
The optional RU-43 dual roll unit provides either an additional paper roll online or can function as a media take-up unit for printed output. Media take-up can be performed with the printed surface either on the inside or on the outside.
Colour Calibration
Consistent colour reproduction is achieved between print jobs, compensating for any variation due to differences among printers or changes over time.
Media Handling
Automatic media sensing & better media handling. Offering full automated loading -with full Artifical Intelligence; the Canon PRO-6100S detects how much media is left on the roll even on thick art media.
Crystal-fidelity output quality
The full structure, clarity and texture of photographs shot using Canon's EOS digital cameras can be faithfully reproduced on paper, in unique Crystal-fidelity quality, using Canon's Print Studio Pro plug-in.
Great selection of software
The software bundled with imagePROGRAF PRO series printers support a wide range of large-format and advanced printing solutions, with features to optimise the efficiency of printing environments. More importantly, the software is fully cross-platform, supporting both Windows and Apple Macintosh computers. Canon's Print Plug-In for Photoshop provides the perfect interface between your Photoshop images and your imagePROGRAF PRO-6100S printer. It enables 16-bit image files to be transferred directly to your printer, maintaining the wide gamut and exceptional graduation of your original images.
Maintain 16-bit colour workflows from image capture to output
Seamless workflow saves time and effort
Automatic colour space recognition
Advanced colour adjustment features
Produce gallery wraps for canvasses
Easily view the printed impact of subtle image variations
More Images

Enlarge
Related Pages