HP Designjet T125 24" A1 Printer 5ZY57A
HP Designjet T125 is ideal for studio design practices, small construction offices right the way through the sub-contracting chain & SMB's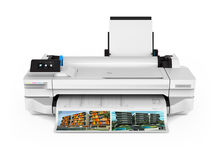 HP Designjet T125 is ideal for studio design practices, small construction offices right the way through the sub-contracting chain & SMB's
Anyone who wishes to print a document of up to A1 or A2, A3 and even A4 can benefit from the low capital investment and a much reduced price per print compared to outsourcing options, in short the Designjet T125 can be cost effective for as little as 10 A1 prints per month and with it's compact size you don't need to worry about how much space it takes up.
With Cool Frozen White Styling it will compliment any small design studio and with connectivity including Wi-Fi and USB you have the convenience of multiple printing options right in your own office, there's no need to wait on plans from a copy centre.
Ideal for the reproduction of site plans, schematics, elevations, spreadsheets and even renders this 4 colour printer benefits from individual 29ml colour ink tanks as well as a large 80ml XL ink cartridge. It can take up to a 50 mtr roll of media in 90gsm and heavier weights for presentation purposes in up to 30mtr length, including Matt, Gloss and Satin for presentation purposes.
Designed to be compact enough for a desktop and even light enough for a sturdy shelf (28 kilos) you still have the option of adding a stand and plot catcher basket, with automatic trimming your plots will simply drop in to the fabric basket
More Images
Related Pages