HP Designjet T2600 MFP
HP Designjet T2600 offers Multi Functional Print, Copy and Scan in A0, A1, A2 and even A3 and is the ideal all rounder for the busy design office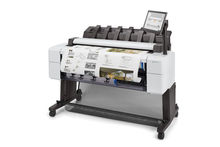 HP Designjet T2600 offers Multi Functional Print, Copy and Scan in A0, A1, A2 and even A3 and is the ideal all rounder for the busy design office
With it's Cool Frozen White styling and large 15.6" Touch Screen Monitor the Designjet T2600 compliments any Architectural Design Studio and delivers functions that offer seamless workflows for printing and scanning output.
Featuring a 6 colour system the T2600 is capable of delivering high-quality monochrome output of construction drawings and with it's pure grey ink offers more accurate output of plans, especially handy when requiring shaded areas on drawings.
Full colour renders can be produced on a variety of medias including Gloss, Matt and Satin and for day to day line work chose low cost uncoated papers from a slow as 80gsm.
The Designjet T2600 Full Colour 15.6" monitor allows easy control of all functions particularly scanning where you can view and zoom in right at the machine.
Print output can be at the bottom of the machine but better still you can stack drawings in the plot collector at the rear of the machine with easy access from the top.
Choose between two options both of which include Postscript Printing as standard
HP DesignJet T2600PS 36-in MFP 3XB78A - Single roll
HP DesignJet T2600dr PS 36-in MFP 3EK15A - Dual roll
More Images
Related Pages