Colortrac Series SmartLF SG
Hi-Fidelity colour reproduction for scanning and reprographics service professionals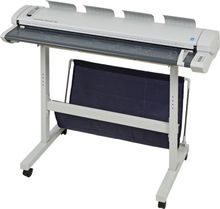 Hi-Fidelity colour reproduction for scanning and reprographics service professionals
Colortracs seventh generation SmartLF SG ENERGY STAR® qualified 36 inch and 44 inch scanners combine a unique Colortrac designed bi-directional LED light system, a longer life and reduced environmental impact with the superior colour imaging attributes of CCD.
Model Options
There are three SmartLF SG high definition large format scanner models in
each size (36in or 44in) with performance levels and features optimised for
different applications.
The M (monochrome/greyscale) and C (colour) models can be easily remotely upgraded to a higher level using a simple emailed scanner upgrade tool. The E (enhanced) upgrade offers the highest colour scan speed. Monochrome/greyscale scan speeds are identical across all upgrades.
Sharp and accurate – with superb colour
The SmartLF SG Series 36″ and 44″ scanners are perfect for capturing sharply defined detail on technical drawings and maps as well as the vibrant, accurate colours needed by graphics professionals.
SmartLF SG Series large format scanners have all the advantages of CCD technology's superior colour imaging – the ability to scan a wide gamut (range of colours) and a high dynamic range (ability to see detail in dark and light areas) – combined with 1200 dpi optical resolution, the highest optical resolution available in any CCD wide format scanner in the market today. This makes them perfect for capturing vibrant, accurate colours for graphics professionals as well as sharply defined line detail on technical documents and maps.
SmartLF SG scanners use the advanced SureDrive paper transport system to maintain accurate document positioning as the document passes through the scanner. Combining this with the ClearView bright white bi-directional LED illumination system ensures that with SG even folded documents scan accurately and as shadow-free as possible.
Images are scanned using 48-bits (colour) or 16-bits (monochrome), with the best 24 and 8-bits selected as image data respectively.
All the benefits of CCD – without the downsides
Traditional CCD scanners have superior colour imaging but are disadvantaged by their fluorescent lighting systems. By using white LEDs instead of fluorescent tubes, the SmartLF SG is able to maximize the benefits of CCD while saving time and energy.
Simplified thick media system
Thick media operation is now full-time on all SG Series scanners. To raise the lid and increase the thickness capability of the scanner raise the lever on the left-hand side of the scanner lid to its maximum position then load the document manually. Lower the lever to grip the media and begin scanning. All media must be loaded panel-side justified with SG
No warm up, no waiting
While a fluorescently lit scanner can be used within five minutes of switching on, it should really be left to warm up for about 30 minutes in order for the tubes to reach their optimum light intensity and for the tube temperature to reach equilibrium. If this is not done color match and possible stitch inaccuracies caused by a still cold chassis may result.
ClearView white LED illumination used in SmartLF SG produces high quality scans just like fluorescent illumination but unlike fluorescent tubes the colour temperature from LEDs remains stable from first power-up to final power-down. No more waiting for warm-up to complete, simply turn SG scanners on and scan!
More Images

Enlarge