RICOH MP CW2200SP
Ricoh MP CW2200SP specially designed for CAD & GIS with quick start up time & offering colour or B&W output in up to A0 Size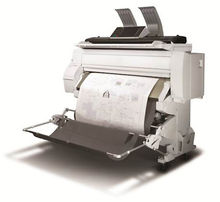 Ricoh MP CW2200SP specially designed for CAD & GIS with quick start up time & offering colour or B&W output in up to A0 Size
Offers complete full-colour functionality in one printer
Print, copy and scan – all in full colour. This one printer deliveres high-quality wide format colour output at low cost.
New Liquid Gel™ ink technology
This is the very first time that this innovative ink developed by Ricoh has
been used on a wide format system. Because of its quick-drying properties, it
guarantees high productivity as well as superb line accuracy and is smudgefree
and UV-resistant.
Productivity
• Overall warm up time less than 40 seconds
• Runs at up to 1.8 pages per minute (b/w), 0.6ppm (colour) on A0
3.2 pages per minute (b/w) and 1.1ppm (colour) on A1
• Suction-fed paper handling includes ejection module that reduces
feeding time. Can hold 10-sheet stack as standard
More Images
Related Pages
Enquire now
Key Features
All-in-one

Copy, Scan and Print in Full Colour

Colour

Utilises a GEL ink for full colour ouput

Applications

Suited to CAD and some GIS applications

Perfect for

Small Drawing Office workgroups with lower volume requirements.
Contact us with your questions on this product »
Product information
Print Speed:
A0 SEF: BW (Speed Priority Mode) 1.8ppm, FC 0.6ppm,
A1 LEF: BW (Speed Priority Mode) 3.2ppm, FC 1.1ppm
Copy Speed:
A0 SEF: BW (Speed Priority Mode) 1.8cpm (Standard Mode) 1.1cpm.
FC (Speed Priority Mode) 0.6cpm (Standard Mode) 0.3cpm
A1 LEF: BW (Speed Priority Mode) 3.4cpm (Standard Mode) 2.0cpm
FC (Speed Priority Mode) 1.1cpm (Standard Mode) 0.6cpm
Print Resolution: Speed Priority Mode: 600 x 300dpi, Standard Mode: 600 x 600dpi, Quality Priority Mode: 600 x 600 dpi
Dimensions (WxDxH)
1,384 x 660 x 1,214mm
Weight: Less than 120kg