Ricoh MP C6003SP
60 PPM all-in-one Digital copier with print, copy, scan - Output can be onto paper stock up to SRA3 in size and 300gsm in weight & for true graphic users there is an optional RIP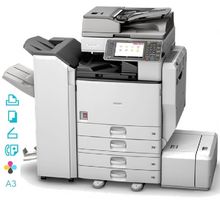 60 PPM all-in-one Digital copier with print, copy, scan - Output can be onto paper stock up to SRA3 in size and 300gsm in weight & for true graphic users there is an optional RIP
The ability to generate a colour print or copy every second makes the MP C6003SP the consummate workhorse colour multifunction printer for departmental use. The addition of the optional E-22C colour controller improves RIP productivity for complex print jobs and ensures consistent, accurate colour output on long print runs. Online finishing options include a 2,000-sheet booklet maker for production of high quality colour documents.
Features & Benefits
Wireless LAN option
User authentication prevents unauthorised use
Energy Star compliant with Total Electricity Consumption values
Easy operation via 9-inch touch panel
High-spec colour controller
Transform your RIP productivity
The E-22C colour controller integrates seamlessly with these MFPs. It incorporates the latest FS100 Fiery platform, a highperformance 2.9 GHz Intel processor, 2 GB memory and a powerful 500 GB HDD. This outstanding combination will improve your RIP productivity for complex print jobs.
Easy operation
The colour controller's Command WorkStation 5 includes the Job Center for job management, and the Device Center for server management. View jobs being spooled, processed or printed, as well as general server information. Simplify document creation with Preview tools, and organise documents from one file to another, regardless of application or platform.
Comprehensive EFI utilities
For superb spot colour optimisation, these devices come with Pantone Plus as well as standard cloud printing capabilities (EFI PrintMe). Enjoy a 3D visual workspace with Fiery VUE which will help you easily and quickly produce professional looking, finished documents from Microsoft Office applications. Wirelessly print to Fiery controllers from your iPhone, iPad or iPod Touch without installing any applications.
Related Pages
Product information
Warm-up time: 17 seconds
First output speed: Full colour: 4.5 seconds, B/W: 3.1 seconds
Continuous output speed: Full colour: 60 pages per minute, B/W: 60 pages per minute
Dimensions (W x D x H): 587 x 685 x 963 mm
Weight: 100.5 kg
PAPER HANDLING
Recommended paper size: SRA3, A3, A4, A5, A6, B4, B5, B6
Paper input capacity: Maximum: 4,700 sheets
Paper output capacity: Maximum: 3,625 sheets
Paper weight: 52 - 300 g/m²